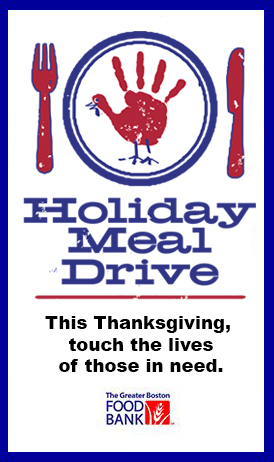 Hello Everyone,
This fall  Lou and I are participating in The Greater Boston Food Bank's Holiday Meal Drive to raise funds to help provide 200,000 holiday meals to those in need in eastern Massachusetts this Thanksgiving.
For every $20 I raise, another less fortunate family in our community will have something for which they can be grateful – a warm, nutritious meal on Thanksgiving Day.
I hope that you will support my efforts to touch families in need this Thanksgiving. Together, we can end hunger here – if just for one day.
Last year as an office team we came in second in the state for the amount of money we raised.
If you have already received this from Lou, I  sincerely apologize for the duplication.
Thank you for your generosity.
Lisa and Lou
P.S. Stay tuned!  We will be collecting new, unwrapped toys for toys for tots at our office soon.